Ohana One's recent mission trips took place in Mozambique, marking their first expedition since the COVID-19 pandemic imposed travel restrictions. For the past three years, the Surgical Sight Smart Glass Program has enabled Ohana One mentors to maintain contact with local mentee surgeons in Mozambique, providing ongoing training. This trip was the first time they were able to work in person again safely.
The mission trip presented an opportunity to further the vital work the mentees and mentors had been doing remotely. Composed entirely of dedicated volunteers, the Ohana One team consisted of 19 individuals who served 50 patients and performed 17 surgeries during their time in Mozambique.
In an exciting turn of events, Ohana One was joined by a team of documentary filmmakers, including Ohana One Board Members, director Jay Roach, cinematographer Bill Pope, and documentarian Sharon Oreck. Their presence aimed to capture the critical work and impact that Ohana One is making in the field. We are happy to share the inspiring story of how the documentary came to be. It all began with some invaluable connections made by Ohana One co-founder Dr. David Kulber.

The idea of using video to tell the Ohana One story originated from Director Jay Roach. Jay had been friends with Dr. David Kulber for some time, and a few years ago, David approached Jay seeking advice on addressing a challenge with the smart glasses' cameras used for remotely mentoring and training Dr. Pedro Santos in Mozambique. David believed Jay, with his experience as a camera person, director, and producer, could help resolve the issue. Jay successfully solved the problem by creating ND (Neutral Density) filters for the smart glasses' camera. As an aside, the newer versions of the glasses and the TeleVU software address this issue without the need for a special filter. While developing the filter, Jay learned more about Ohana One and became excited about their mission. As Jay became more involved and supportive of Ohana One, David invited him to join the board, an invitation Jay gladly accepted. Serving as a board member, Jay became a strong advocate for using videos to raise awareness of Ohana One's remarkable work. Thanks to Jay's encouragement and support, Ohana One was able to create a couple of short informational videos.
Around a year and a half after Jay joined the Ohana One board, two other filmmakers, Producer Sharon Oreck and cinematographer Bill Pope, were appointed. Like Jay, this husband and wife duo became board members through their connection with David Kulber.
Sharon Oreck recalls how she fortuitously met Dr. Kulber and his PA, fellow Ohana One co-founder Kylie Tanabe, while seeking treatment for a ligament repair in her thumb at Cedars Sinai's reconstructive unit. The accident occurred between Thanksgiving and Christmas, making it incredibly challenging to find a surgeon. Through a celebrity intervention, Sharon found her way to Dr. Kulber, who successfully treated her thumb. During her treatment and recovery, David and Kylie told her about the nonprofit they had founded—Ohana One. They discussed the miraculous technology employed by Ohana One to support under-resourced surgeons in low- and middle-income countries, addressing the lack of local surgical education and opportunities to help surgeons care for patients in under-resourced communities. This resonated deeply with Sharon's interest in social justice.
Eager to learn more, Sharon searched for Dr. Kulber on YouTube and stumbled upon a video showcasing him treating a child. The video told an extraordinary narrative of how the child received life-changing surgery and highlighted the collective effort required to make it happen. Sharon was captivated by the compelling story and the stunning transformation it depicted. That's when she realized the significance of the work being done by David and Kylie at Ohana One.
During a follow-up appointment for her surgery, Sharon inquired about Ohana One's current endeavors. At that time, they were planning a mission trip to Nicaragua for the following summer. Sharon suggested they document Ohana One's work. She felt the captivating stories needed to be shared with the world.
Sharon, being a woman of action, offered her assistance in telling the story of Ohana One's work and volunteered her cinematographer husband, Bill Pope, knowing his exceptional skills would contribute to the storytelling. From there, their involvement with Ohana One gradually deepened. Similar to Jay's experience, David invited Sharon and Bill to join the Ohana One board, as he was always seeking to bring more talent and passion to the organization.
Once appointed to the Ohana One board, Sharon and Bill immediately immersed themselves in learning from their fellow board members and assessing who could help make their documentary idea a reality.
Around the same time, Jay was energized watching demonstrations of smart glasses or hearing about what Dr. Kulber and his mentee in Mozambique, Dr. Santos, were doing. Jay wondered how to show the world how amazing it was that David was literally looking through Dr. Santos's eyes using the smart glasses. He was excited to find a way to capture that revolutionary training. David called his bluff and invited him to go on the upcoming mission trip.
Both Bill and Sharon were captivated by the worth and audacity of Ohana One's mission. They were driven by the idea of educating doctors and solving the problem of the global shortage of surgical fellows and access to surgical care. Upon joining the board, they gained an even deeper understanding of the importance of this work and its life-changing impact on surgeons and patients alike. As they got to know their fellow board members, they realized the remarkable talent present on the board.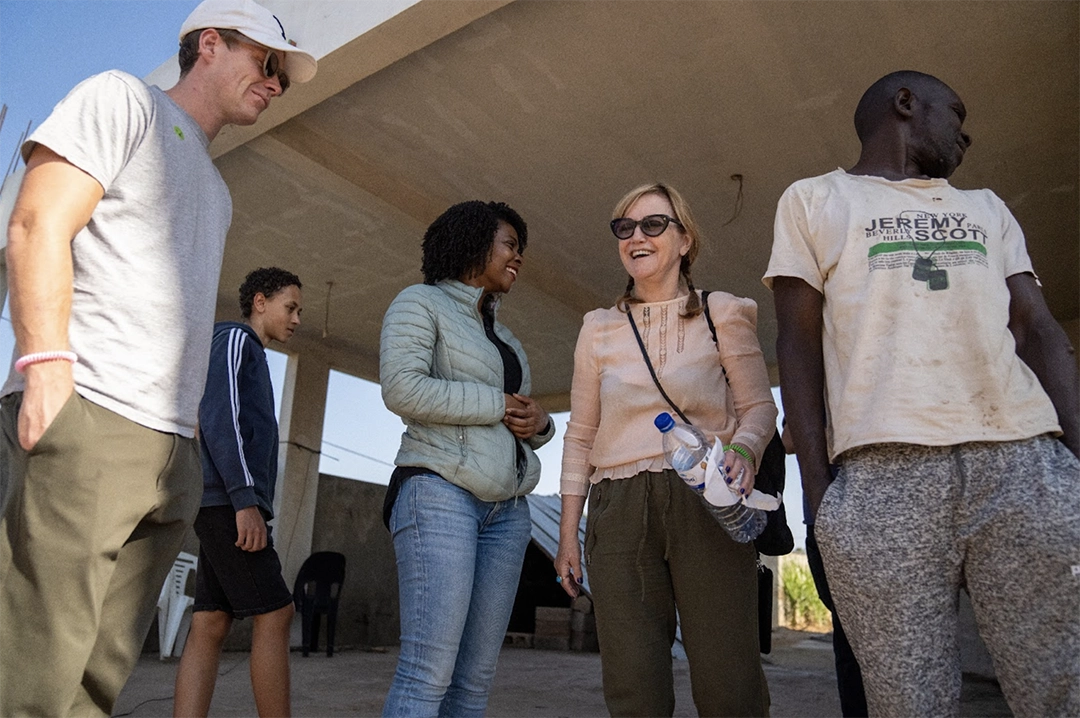 When they met Jay Roach, it became evident to all that they had the team necessary to create a powerful documentary. The idea was well on its way to becoming a reality. The next mission trip on Ohana One's schedule was to be different from Nicaragua as initially planned but rather to Mozambique. Things were starting to come together, and Jay was excited to film with Bill Pope, one of his cinematographic heroes. The idea of going to film documentary footage of such a great story and mission was truly exciting for Jay. He jumped at the opportunity to make this documentary with Bill and Sharon.
With the support of the entire Ohana One board and its Executive Director, Marchelle Sellers, Sharon, Bill, and Jay began assembling the pieces to turn this dream into a tangible documentary.